With over 11 million patients treated worldwide, Invisalign is the world's most popular and advanced clear aligner system.
The system comprises a series of ultra-thin, clear aligners. Each aligner moves the teeth a small amount until they are in the straightened position, as prescribed by your dentist.
The Invisalign aligners can be easily removed for eating, drinking and socialising.
The Treatment Process:
At New Park House Dental our goal is always to exceed your expectations and our step-by-step treatment process ensures you can be confident in the outcome of your Invisalign treatment before you start.
1. Consultation
At this visit the dentist will listen to your main concerns and assess your suitability for Invisalign. We will provide an estimate for any proposed treatment.
2. ClinCheck
Invisalign allows you to see a computer mock-up of the proposed final result before you commit to the treatment. Any changes to the final outcome can be made at this time and a new ClinCheck created. The ClinCheck will also allow the estimate to be finalised and an accurate guide to treatment duration given.
3. Invisalign Treatment
Each Invisalign aligner is normally worn for 1-2 weeks before the next aligner is fitted. Each Invisalign Aligner gently guides the teeth into their new position. Treatment times range from 14 weeks to 12+ months depending on the complexity of the case. Our average treatment time is 6 months with a check-up every 6-8 weeks to ensure the treatment is progressing as planned
4. Retention
It's vital that some form of retention is used after all orthodontic treatment to prevent relapse.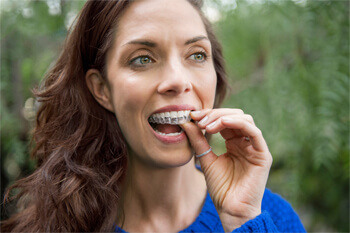 Am I suitable for Invisalign?
Invisalign Treatment can be a great solution for both adults and teens looking for a virtually invisible method to improve their smile. Invisaligns innovations and technological advancements make it possible to fix the majority of common teeth-straightening issues, from simple to complex. We will always discuss the alternative treatments such as fixed braces so that you understand all the options available to you along with their risks and benefits.
If you would like a quick opinion before booking a consultation then please feel free to call and speak to one of our Treatment Coordinators or send us some images using our e-consultation form.